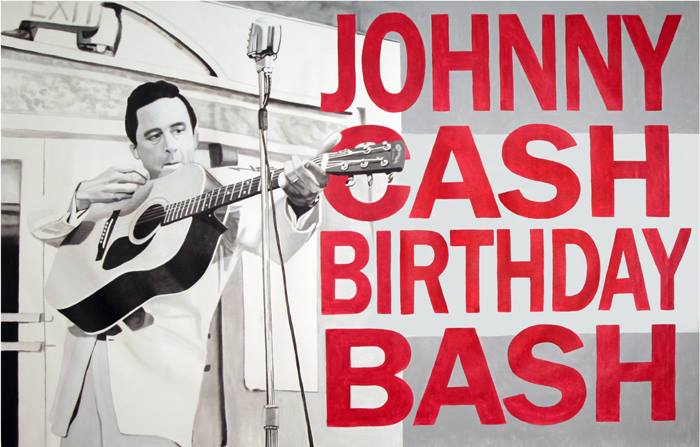 The Johnny Cash 83rd Birthday Bash returns to The Bell House on March 6, 7, & 8, 2015. A Brooklyn tradition since 2005, all shows feature Alex Battles & The Whisky Rebellion performing of dozens of Cash favorites such as "I Walk The Line," "Folsom Prison Blues," "Big River," "Jackson,"  "I Still Miss Someone," "A Boy Named Sue," and many more, duets with crowd favorite Linda Hill, Carter Family songs performed by The Calamity Janes, painted backdrops by LJ Lindhurst, and classic country from DJ General Buell.
This year's three-day installment adds the first-ever Sunday afternoon all-ages Johnny Cash Birthday Bash commencing with a hymn sing of Cash's favorite spirituals from the albums "My Mother's Hymn Book," "Hymns from the Heart," and "Hymns by Johnny Cash".
As The Johnny Cash Birthday Bash has sold out every year for the past decade, attendees are strongly encouraged to purchase  tickets in advance through The Bell House website and box office.
Friday, March 6, 2015   /   Saturday, March 7, 2015   /   Sunday, March 8, 2015
A limited number of two-night passes for Friday and Saturday night's shows are also available.
What is your favorite Johnny Cash song? Let us know in the comments!