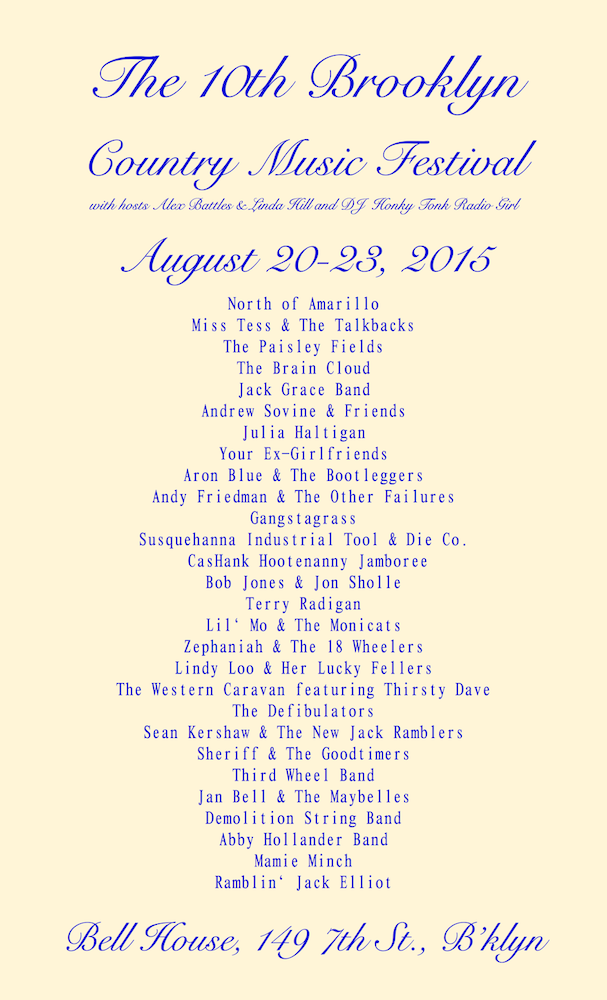 The 10th Brooklyn Country Music Festival presents four days of country and bluegrass music Homegrown in New York City on August 20-23, 2015 at The Bell House in Gowanus, Brooklyn, New York.
Legendary folk musician Ramblin' Jack Elliot will headline the show on Sunday, August 23, 2015, following a set by Brooklyn's own Mamie Minch. Over two dozen bands will join in the festivities over four days which will be hosted by festival organizer Alex Battles & and comedienne Linda Hill.
The Brooklyn Country Music Festival has seen nine installments at venues such as Freddy's Bar, Southpaw, Hank's Saloon, and Jalopy. This will be the first Brooklyn Country Music Festival at The Bell House.
Pick a day and bring your friends! Tickets start at just $15 for Thursday and Friday! Four day passes just $50!
Thursday, August 20, 2015
North of Amarillo / Miss Tess & The Talkbacks / The Paisley Fields / The Brain Cloud / Jack Grace Band / Andrew Sovine & Friends
Friday, August 21, 2015
Julia Haltigan / Your Ex-Girlfriends / Aron Blue & The Bootleggers / Andy Friedman & The Other Failures / Gangstagrass / Susquehanna Industrial Tool & Die C0.
Saturday, August 22, 2015
CasHank Hootenanny Jamboree / Bob Jones & Jon Sholle / Terry Radigan / Lil' Mo & the Monicats / Zephaniah & the 18 Wheelers / Lindy Loo & Her Lucky Fellers / Western Caravan featuring Thirsty Dave / The Defibulators / Sean Kershaw & The New Jack Ramblers
Sunday, August 23, 2015
Sheriff & The Goodtimers / Third Wheel Band / Jan Bell & the Maybelles / Demolition String Band / Abby Hollander Band / Mamie Minch / Ramblin' Jack Elliot
The Bell House is located at 149 7th Street between 2nd and 3rd Avenues in Gowanus, Brooklyn. Tickets are on sale now at The Bell House.
Read More »